On Quaker Eldering:
with Elaine Emily and Mary Kay Glazer
December 28, 2023 to January 1, 2024
The heart and soul of Quaker eldering is multi-faceted, including spiritual formation, nurture, accompaniment, accountability, and more. While the definition of Quaker eldering can be elusive, this ministry, discipline, and grace contributes greatly to vital faith communities. In this experiential workshop, we will explore the gifts of elders, playing with the many facets of eldering as a spiritual gift.
This workshop will integrate material from the book Invitation to Quaker Eldering, which Elaine and Mary Kay co-authored. As we gather to welcome in the new year, we also welcome to this workshop all who are curious about what it means to be a Quaker elder today, and those who would like to encourage this ministry in the meeting.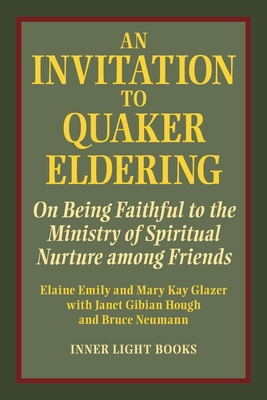 Elaine and Mary Kay's book is available from Pendle Hill and many other outlets. It is not necessary to have read the book to attend the Year End Retreat. Additional copies of Invitation to Quaker Eldering will be available at the retreat.
About the program leaders
Elaine Emily's passion and work as a Quaker elder for the last four decades has brought her to the U.S., Canada, Australia, New Zealand, and England, leading workshops on how to invite, how to notice, and how to tend the Spirit. Prior to this work, she earned her Master of Social Work from the University of Wisconsin, Milwaukee; practiced psychotherapy; ran a group home for adolescent girls; did body, energy work and hands-on healing (Body Wisdom Therapies) for a number of years; and trained as a Kripalu yoga teacher. She has been a Spiritual Nurturer at Pendle Hill, and is a member of Quakers in Pastoral Care and Counseling.
Mary Kay Glazer began her intentional path into the ministry of eldering in the mid-2000s when she attended one of Elaine Emily's eldering workshops. With Elaine and two others, she is co-author of the book Invitation to Quaker Eldering. She loves to hang out with people who long to respond to Spirit's invitation into deeper relationship and faithfulness. She is a graduate of The School of the Spirit's "On Being a Spiritual Nurturer" and has a master's degree in Spiritual Formation and Leadership. She is a spiritual director and a Life-Cycle Celebrant. She is a member of Rich Square Monthly Meeting, NCYM-C, and the Greenville NC Friends Worship Group. Born into a Polish Roman Catholic family, she is named after the Blessed Virgin Mary.
Nancy Wilkinson will be acting as elder and accompaniment for this workshop. Nancy came to Friends seeking spiritual nourishment and deepening, and is indebted to those who have had the patience to accompany her on this journey. When she prayed for help in balancing body and spirit, she found herself as Clerk of Pacific Yearly Meeting's Eldering Subcommittee, and Treasurer of Strawberry Creek Monthly Meeting (where she is a member) in Berkeley. When not listening to how Spirit is moving in Friends' lives, she can be found knitting, swearing at Quickbooks, and escaping from the city into nature.
Program dates and early arrival option. The Ben Lomond Quaker Center has held a year-end retreat for a long time. The extended retreat offers space for a slower-paced program with more time for reflection, rest and exchange, as well as deep and joyful fellowship. This year the retreat will 'officially' begin on Wednesday, December 28th, but we will open up the Orchard Lodge if folks would like to arrive on December 27th and get settled in before the program begins the following day.
Costs and logistics. The program fees are based in our Pay-As-Led model, which you can read more about here. The suggested amounts are:
Full rate: $550
Standard rate: $400
Reduced rate: $250
Housing will be in the Orchard Lodge bedrooms and Redwood Lodge sleeping areas, campsites will also be available. Chef Tod Nysether will prepare our food. You can read more about Quaker Center's programs here, and please get in touch with us with any questions by calling (831) 336-8333 or sending an email to mail@quakercenter.org.