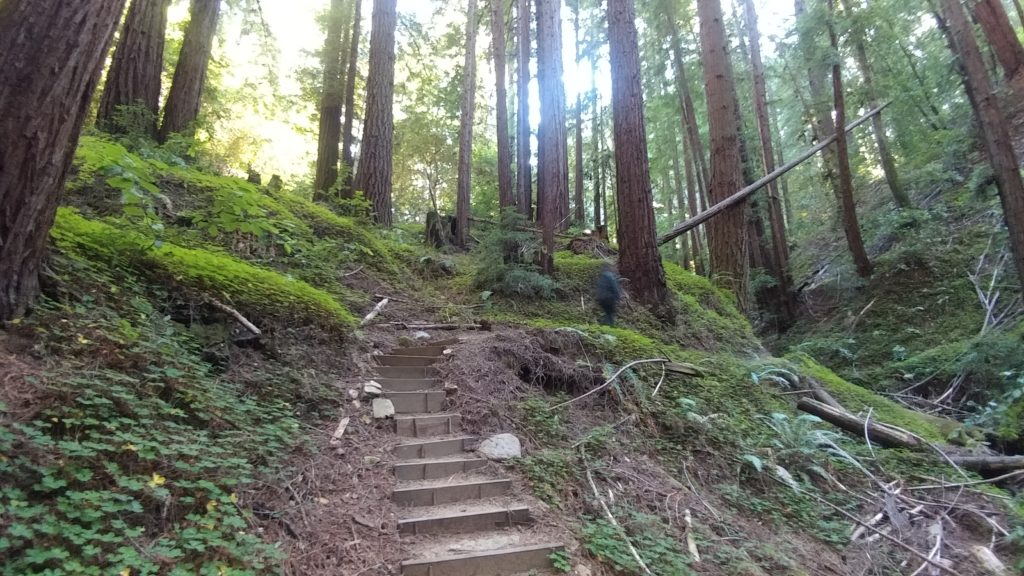 Spending time at Quaker Center is a wonderful way to enjoy some quiet, walk in the woods, and appreciate the serenity of the Santa Cruz Mountains. We provide hospitality to families and individuals, as well as large groups. Quaker Center has various simple, cozy accommodations available for personal or family retreats. Anyone is welcome to make a reservation.
A retreat at Quaker Center might include time for reading, study, writing, meditation, and Worship; a visit to our labyrinth, library or meditation hut; exploring our hiking trails, or simply spending time away from the normal routine.
There are currently two different spaces available for retreats. Click on the links below to see rates and learn more about the spaces listed.
To check availability in any of these spaces, please email mail@quakercenter.org or call us at (831) 336-8333, or see the availability calendar below (the Sojourner's Cottage is already reserved on the dates marked in red, and the Haven on those in green). Please get in touch with us to make a reservation at Quaker Center or to ask any questions.
 Deposits and timelines. Quaker Center has a two-night minimum stay, and requests a deposit of  half of the total fee to confirm a reservation. This deposit is non-refundable if cancellation occurs within 7 days of the start of your retreat. Personal retreats can be reserved up to three months in advance. 
Kitchens and food. Guests should bring their own food to Quaker Center, or plan on going shopping after they arrive. The Haven and the Sojourners Cottage have fully equipped kitchens where guests can prepare their own food. Guests in the Redwood Lodge Family Suite or Loft have a microwave, a small refrigerator, and an electric kettle for preparing and heating simple meals. All spaces are heated and have running potable water. Quaker Center has its own water supply which meets all county and state standards.
A few important rules and guidelines. After 10:00 p.m., we ask that Sojourners (those using our facilities for retreats) refrain from amplified noise indoors and use quiet voices outdoors, and respect the privacy of other Quaker Center guests. We ask guests not to bring strongly scented toiletries because the odor can permeate fabrics. Due to fire danger, we do not allow smoking, incense, or candles inside any building. Overnight pets are not permitted at Quaker Center, excepting trained service animals.
Cleaning and linens. At Quaker Center, guests do their own cleaning before they leave. This special policy enables the Center to maintain a small staff, keeps our spaces accessible, and allows guests to both give and receive the gift of a clean, cared-for space to one another. We ask that guests leave Quaker Center in as good or better condition than which it was offered to you. Cleaning supplies and instructions are available in each space. For personal retreats, we provide all bedding and towels, and guests should bring their own toiletries. There are no guest laundry services available; there is a laundromat in Ben Lomond.
Mountain living and power outages. There are occasional power outages in this area. They are usually fixed in a matter of hours but have sometimes extended beyond that, and such outages have increased since the 2020 CZU Lightning Complex fires. When there is a power outage, Quaker Center will run its generators and provide electricity to all spaces where guests are staying. Although all our spaces have wireless internet, there may or may not be internet while we're using our generators during a power outage. If the outage lasts overnight, we run the generators until about 10:00 p.m., and turn them on again between 6:00 and 7:00 a.m.
Quaker Center may offer support to those doing particular spiritual or service work who may need a subsidized rate. Please contact us for further information.
We are always happy to answer questions about personal retreats at Quaker Center. Please send an email to mail@quakercenter.org or call us in the office here at (831) 336-8333.