Coming up: COUPLES' ENRICHMENT with Jeff and Kathy Richman (On Site ←see Program info on left) Daily worship (see below↓) and Wednesday Morning Worship Sharing (see info on right panel→)
CZU Lightning Fire Update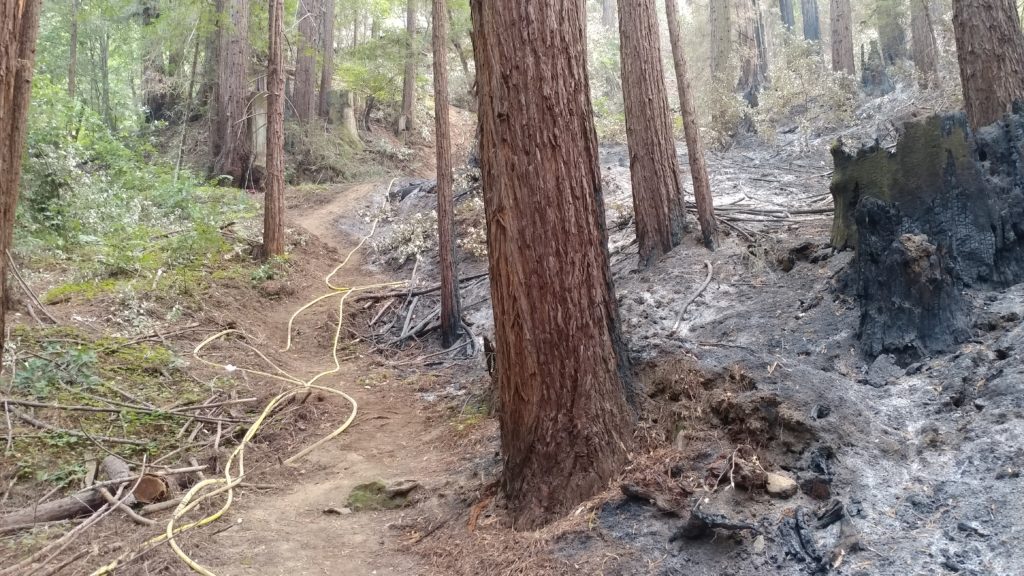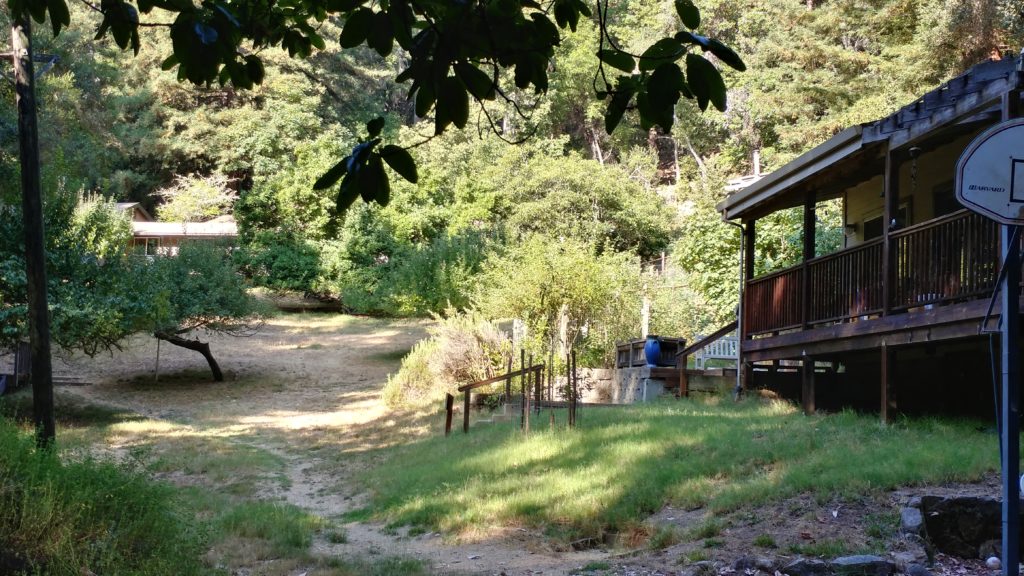 Above: Fire break at the Fawn Trail. Below: The Orchard, post fire.
As you may know, Quaker Center had been evacuated due to the fires in Santa Cruz County. NO MAJOR QC STRUCTURE HAS BEEN LOST! By all accounts, the Ben Lomond Fire Department did a great job defending the Center and the adjacent Sequoia Center.
We have lost a woodshed and about two-years worth of firewood and have sustained damage to about 1800 feet of our water lines. The air quality (due to ash and smoke) combined with extreme summer temperatures have made repopulation challenging but we are in the process of cleaning up and starting over!
We will do our best to keep you updated here over the next few days and weeks.
Gifts and Donations
THE BEN LOMOND QUAKER CENTER
is a self-service conference and retreat center in northern California that offers simple, modestly priced, comfortable accommodations. We are located on 80 acres of redwood forest, an hour and a half south of San Francisco and 25 minutes outside of Santa Cruz. You are invited to come to this serene and beautiful place for:
Quaker Center programs

focused on Quaker history and practice, spirituality, and social justice.

Now

(mostly)

Online
Quaker Center is a nonprofit under the care of the Religious Society of Friends (Quakers). We welcome all people and groups, regardless of Quaker affiliation, who are in harmony with Friends' values of integrity, unity, equality, simplicity, peace and community. We also strive to live in harmony with all creation. All are invited to use our facility for gatherings and personal retreats, as well as participate in our programs and camps.
Quaker Center offers a daily online meeting for worship from 7:30 until 8:00 AM, Pacific Time. You can join us from anywhere in the world!
We welcome visitors. Please call 831-336-8333 to schedule a convenient time.