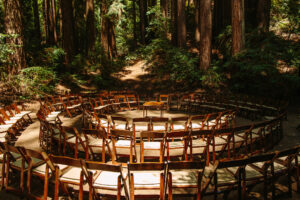 Weddings at Quaker Center
Quaker Center is a beautiful, special place to celebrate simple, outdoor weddings and low-key receptions in the California redwoods. We can host small-group events, or weddings and receptions of up to 100 people. 
Note: there are no more weekend wedding spots available in 2022 or 2023.  Quaker Center can still host smaller, one-day wedding gatherings and ceremonies, as well as mid-week events.
Weddings held at Quaker Center are typically under the 'care of a Meeting,' in which at least one member of the couple is part of a Friends Meeting and the couple has had a Clearness Committee regarding their marriage. Weddings not directly under the care of a Quaker Meeting may occasionally also be held at Quaker Center.
Quaker Center is not a full-service or a luxury option; Quaker Center's fees are modest because our guests do their own cleaning–including for weddings–and leave the facility in as good or better condition than it was received.
Reservations for weddings can be made up to one year in advance. Please contact us to ask any questions and to receive more information about holding a wedding at Quaker Center.