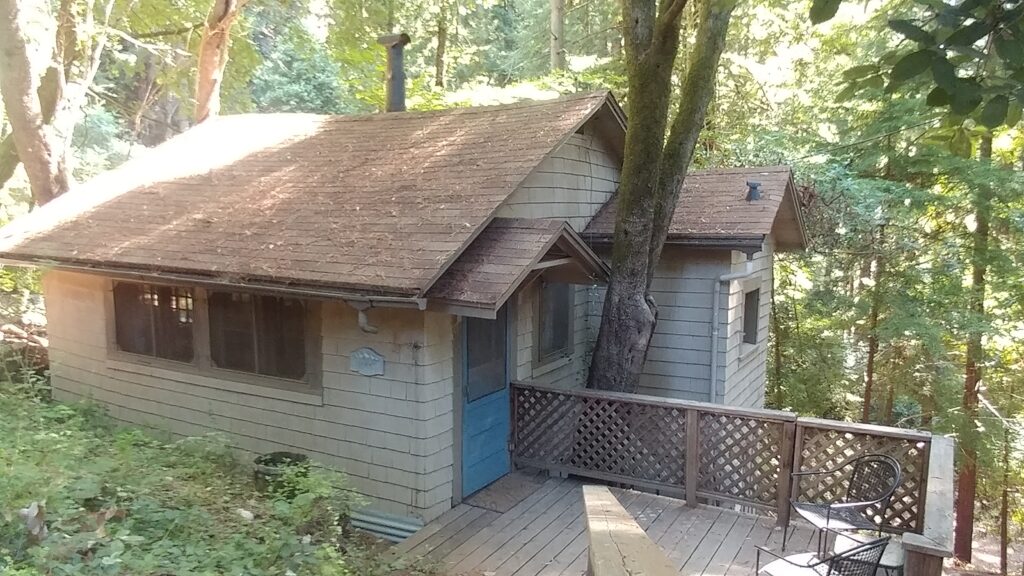 The Sojourner's Cottage is a small, comfortable and cozy 100-year-old cabin. It has a bedroom with a full-size bed, a living room with a small pullout sofa, and a fully-equipped kitchen and bathroom. The Cottage can comfortably sleep three, and floor pads are available for an additional person. Linens and towels are provided; guests should bring their own food and toiletries. There is wireless internet in the Cottage. 
The Cottage is not wheelchair accessible, and has a flight of eight stairs leads from the road to the Cottage deck. Parking is close by.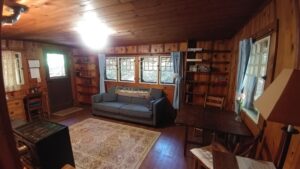 Our hillside can have hot summer days and cold winter nights. The Cottage has a gas heater controlled by a thermostat, and a portable fan and air purifier that can circulate and cool the air. Guests should be prepared for a range of temperatures over the course of the day, regardless of the season.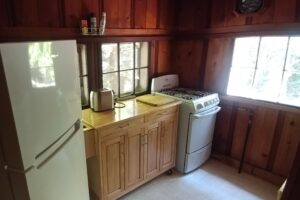 The Sojourner's Cottage currently costs $100 per night for one person, and $30 per night for each additional person. We ask that our guests consider the market value of their stay and whether they can give more than these suggested rates. We also request a deposit of one-half the total cost to secure your reservation. Full payment is due by the day of your departure.
To  check the availability of the Sojourner's Cottage or to ask any questions, please send an email to mail@quakercenter.org or call us at (831) 336-8333. You can also check the availability calendar below. Some of you will notice that we have recently removed the reservation software we were using from our website. At this time, please get in touch with us directly to make reservations at Quaker Center or to ask any questions. 
Getting to the Sojourner's Cottage. See our Directions page to get to Quaker Center. At the top of Hubbard Gulch Road, turn right, past the big Quaker Center sign, and make an immediate left turn. The Cottage is on your right. Just past the Cottage, pull your car up to the sign that says "Sojourner's Parking."
The Sojourner's Cottage is already reserved on dates marked in red, and the Haven is reserved on dates marked in green.