QUAKER CENTER PRESENTS:
RESTING IN LOVE:
The Healing Balm of Silence
Silent Retreat In-Person
September 30-October 2, 2022
Judith Wright Favor & Judy Leshefka
Sacred places have constancy in them…because we, who worship in them, imbue them with our lives, our hopes, and our concerns. Many of us have favorite places where we sit, where friendship with God and each other is brought to mind and heart….where our souls are remembered into presence and service. (4-5) Gunilla Norris, Cultivating Sanctuary, PHP 466
Experience a weekend of quiet in the beauty of the Redwoods. Silence can soothe our bodies and minds in order to better attend to the longings of our souls. To nurture the silence, optional activities will be offered including meditative writing, soul collage, walking meditation in nature, and healing meditation. There will also be opening and closing worship sharing and Meetings for Worship. This retreat is for first timers as well as those who have participated in many silent retreats
THE PROGRAM LEADERS:
Judith Wright Favor is a member of Claremont Friends Meeting who also serves Southern California Quarterly and Pacific Yearly Meeting. She taught at Claremont School of Theology and facilitated AVP workshops in California prisons. Judith's ministry includes writing for publication, soul companionship and retreat leadership.
Judy Leshefka is a member of La Jolla Friends Meeting. She helped start the Annual Friends' Silent Retreat which has been offered in Southern California every Labor Day weekend for the last 25 years. Silence has been her primary spiritual practice since her teenage years.
---
---
---
ARE QUAKERS MYSTICS?
---
Three 90-Minute Sessions, ONLINE
with MICHAEL BIRKEL
Wednesdays, November 2, 9 & 16 @ 5 p.m.
"The human spirit and the divine Spirit have met, have found each other, and are in mutual and reciprocal correspondence. . . ."
"Sometimes it is a flash of sudden insight, sometimes it is a quiet assurance, sometimes it is an unspeakable joy in living, sometimes it is a dim awareness of a resource to live by and to draw upon for action." –Rufus Jones
A workshop series with Earlham School of Religion faculty (newly emeritus) Michael Birkel. How have Quakers and others understood mysticism? Did Quakers benefit from the inheritance of mystics from the wider Christian tradition? How have Quakers talked about mysticism – what was their language for their interior life? How have Friends benefited from encounters with non-Christian mystical traditions? We'll explore brief passages from early and modern Friends, and participants will be invited to share from their own spiritual experience.
ABOUT THE PROGRAM LEADER: Michael Birkel is a member of Clear Creek Monthly Meeting (Ohio Valley Yearly Meeting) and has taught courses in spirituality and in interfaith studies at the Earlham School of Religion in Richmond, Indiana. He has written several books on Quakerism and spirituality and has traveled widely among Friends as a speaker and workshop leader. Michael loves old texts and a community of spirited readers with whom to explore them.
---
---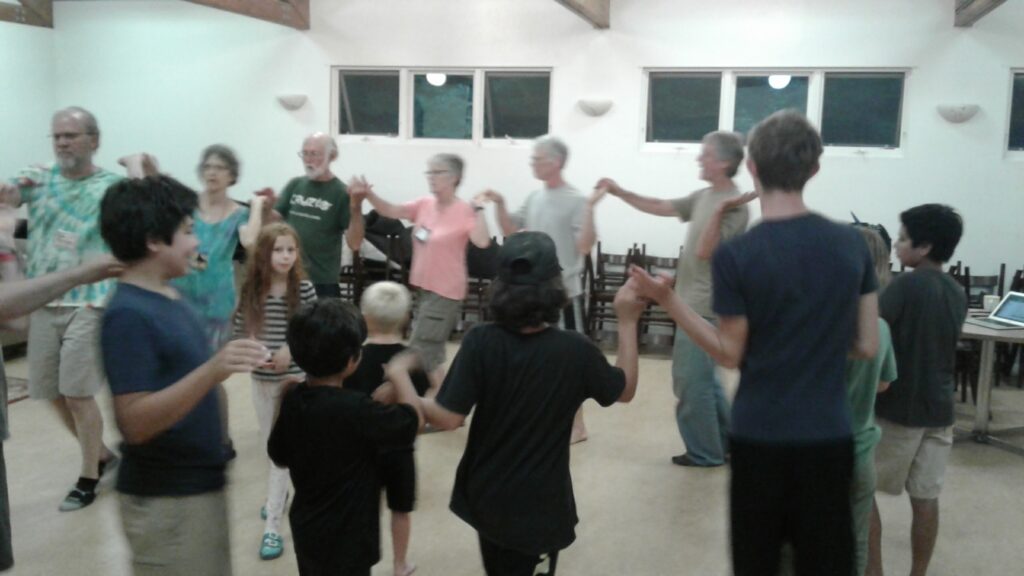 Music & Dance Retreat December 2-4, 2022
This is a mostly self-led weekend for Friends to share their love of Music and Dance. Workshops begin the first night of the program, according to participant interests (Broadway tunes, Hymn sing, Folk dancing, etc.). Contra Dance is Saturday Night with caller and fiddler; Friends are invited to join the band.
---
---
INTERVIEW with DAVID HARTSOUGH by Keith Runyan
This 90-minute program was recorded on Saturday, March 26th of this year, dedicated to David's reflections as facilitated by Keith Runyan.