CALENDAR (Also, see Welcome Page)
Almost every month, Quaker Center offers a workshop on topics of interest to Quakers and others. These programs are open to the general public. Scholarships are available for those in need.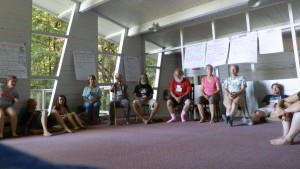 When in-person programming resumes, childcare will be available at all Quaker Center workshops. Be sure to let the directors know about childcare needs ahead of the workshop.
To be added to our mailing list or to receive electronic notice of flyers for our programs, please send us your name, address, and/or email address.
Quaker Center does not sell or trade names on our mailing list to anyone for any reason.
See what people have said about our programs!
Tod Nysether cooks for the Quaker Center programs and serves only vegetarian options. Take a look at Tod's cuisine here!
Typically, we can offer double occupancy for participants. Sometimes we can offer single rooms; occasionally we will place three individuals in one room.