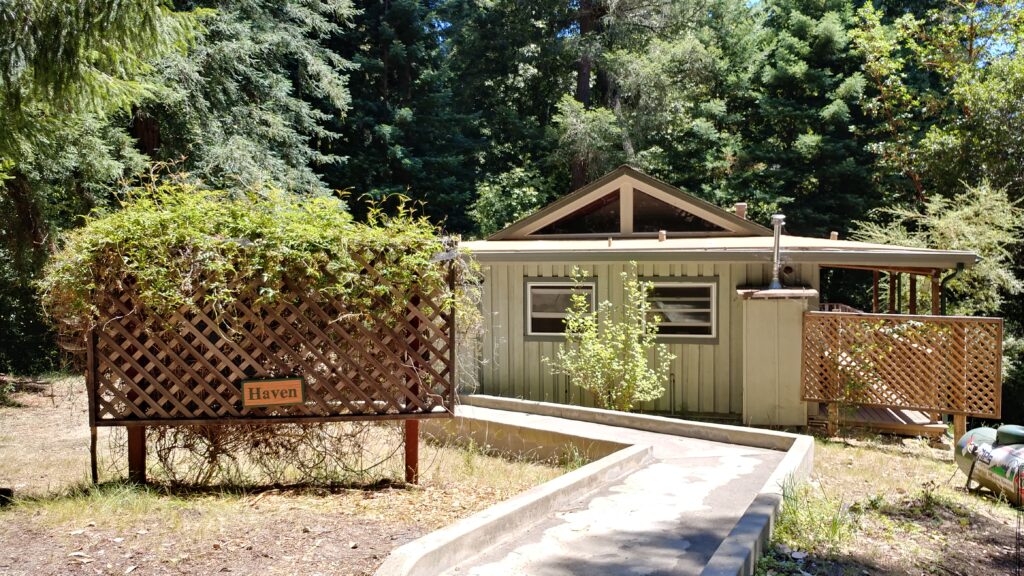 The Haven is a spacious, one-room studio-style wheelchair accessible cabin. It has a sitting, dining and sleeping area with a queen size bed, a large pull-out couch, and floor pads for additional guests. The wide space also has a full kitchen, writing desk, piano, and wireless internet. There is a wheelchair accessible bathroom and shower, and a private, wrap-around wooden deck that includes the famous Haven outdoor clawfoot tub and shower. The Haven is most appropriate for  1-4 people, though more can sleep on floor pads indoors or on the deck. Linens and towels are provided, guests should bring their own food and toiletries.
Our hillside can have hot summer days and cold winter nights. The Haven has a gas heater controlled by a thermostat, ceiling fans, and an air purifier that effectively circulates and cools the air. 
The Haven currently costs $100 per night for one person, and $30 per night for each additional person. We also ask all our guests to consider the market value of their stay and whether they can give more than these suggested rates. We request a deposit of one-half the total cost to secure your reservation. Full payment is due by the day of your departure.
To  check the availability of the Haven or to ask any questions, please email mail@quakercenter.org or call us at (831) 336-8333, or take a look at our availability calendar below. Some of you will notice that we have recently removed the reservation software we were using from our website. At this time, please get in touch with us to make reservations at Quaker Center or to ask any questions.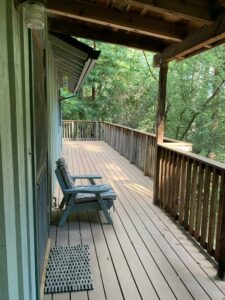 Getting to the Haven. See our Directions page to get to Quaker Center. Once you're here, at the top of Hubbard Gulch Road, make a sharp left and go up the hill.  Continue past the Orchard Lodge on your right. Keep following the road, and fork left at the Maintenance Manager's driveway. The Haven will be on your right, and you can park in front of the trellis. A wheelchair ramp leads to the door.
The Haven is already reserved on the dates marked in green, and the Sojourner's Cottage is reserved on dates marked in red.