Susan Wilson and Bob Fisher, Incoming Co-Directors, starting mid-August 2019.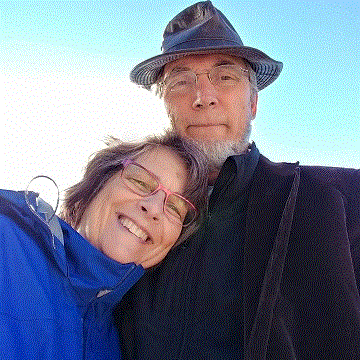 Bob & Susan have rich, varied and complementary skills and experiences.
Susan has a strong history of program development, from First Day school to college student programming (primarily leadership education) and adult learning activities (most recently anti-racism education). She is adept at team building, addressing group and interpersonal conflict, and fostering community.
Bob is immersed in Quaker process and outreach. His deep interest in early Quakers and his commitment to peace and social justice have provided many opportunities to engage others in discussions about the need for more visible Quaker witness in the world. He has abundant and varied practical skills which are useful when addressing issues related to property/ facilities usage and maintenance. His writing, editing, and creativity have often been helpful in solving organizational problems or finding a way to respond to those in need.
In their marriage vows thirty years ago, they pledged to work together toward "a peaceful and just world for ourselves, our children and all of humanity." They look forward to continuing that work at Ben Lomond Quaker Center with joyous expectation.
Kathy and Bob Runyan, Co-Directors, through August 2019
Kathy was born in downtown Los Angeles and has lived in California most of her life.  After graduating from college and teaching for two years, Kathy met Bob in 1986.  A year later they were married and moved to Northern California where Kathy continued teaching, first in public schools and then as a homeschooling parent of three sons.  During this same period of time Kathy served on the First Day School committee and on the Quarterly Meeting Children's Program Committee.  In May of 2003, Kathy was hired as the Admissions Director for the new Woolman Semester program at Sierra Friends Center and continued in that role and then as Advancement Director until coming to Quaker Center in 2011.  Kathy enjoys spending her free time walking, drawing, but more than anything enjoying a nice chat over a cup of tea.
Bob spent most of his childhood summers in the Santa Cruz mountains camping, hiking, and skim-boarding at the beach.  Bob traveled to Mexico and Europe, played soccer throughout his college years, and continued on to earn his teaching credential.   After teaching at the high school level for a few years, Bob joined the Peace Corp and went to the Seychelles Islands where he taught math and computer science at the Polytechnic School.  After returning to the States, Bob met Kathy and continued teaching until 1989 when he changed careers to become a computer programmer.  In 1996, Bob felt inspired to write software that foster empathy by simulating life anywhere in the world based on real-world statistics.  Bob went into business for himself to develop and sell "Real Lives" and during this time also worked as the Executive Director of Sierra Friends Center from 2005 through 2008.  During his free time, Bob enjoys playing piano and mandolin, hiking, biking, and running, and whenever possible, watching international soccer with his three sons at a local taqueria.
Jesse Keesaw, Maintenance Technician
Jesse grew up spending most of his time exploring the local natural history of the Santa Cruz Mountains bioregion where he was born, a passion that continues to this day. When not busy with the diverse tasks he performs at Quaker Center, he enjoys gardening, writing, and spending time with his wife (Quaker Center housekeeper) Michelle, their daughter Malaya, and their new baby son.
Michelle Keesaw, Housekeeper
Ellen Dougherty, Office Coordinator
Ellen is an experienced non-profit administrator who spends her time hiking, reading, going to concerts, watching movies, and writing.