Hiking trails and labyrinth. Quaker Center has several trails and a labyrinth that visitors are welcome to explore during daylight hours.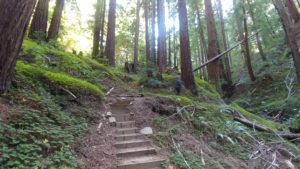 When you arrive, please sign in at the office before you go for a walk. There is a sign-up sheet on the table outside the office. Occasionally, a group or event may close the trails or labyrinth to visitors; you can call us first at (831) 336-8333 to make sure that our trails are open. Hikers should be prepared for forest terrain, and bring sturdy shoes with treads and seasonally appropriate layers of clothing. When visiting for the day, please do not enter the lodges or retreat cabins, as they may be in use by Quaker Center programs and private events. All pets must be kept on a leash, and mountain bikes can not be used on Quaker Center trails.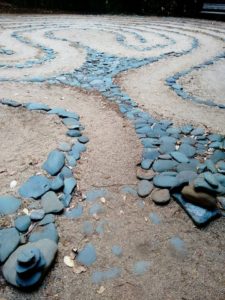 The Quaker Center labyrinth is about 50 feet in diameter and contains seven cycles, in an ancient pattern found in varied forms throughout the world. Laid out upon a foundation of local mountain granite from the Santa Cruz quarry, the paths are lined with smooth river rock.
Labyrinths are considered to be pathways to spiritual growth and new perspectives, and they can be used as a spiritual practice.
The Quaker Center labyrinth was created by Tom Davis, a retired accountant and member of the Santa Cruz Friends Meeting of the Religious Society of Friends (Quakers). In about two hours, Tom laid out a temporary labyrinth out of yellow nylon rope and metal stakes in the autumn of 2000. He was asked to revive the temporary labyrinth several times for other workshops, and the permanent labyrinth was installed in 2002.