Friday, October 20 to Sunday, October 22
Quaker history tends to emphasize the weightiness of a life of Spirit. In this workshop, in the spirit of ongoing revelation, we will explore what happens in the lighthearted side of walking in the Light.
What do we discover when we encounter that of God within us through our creativity and sense of play? How do our connections to each other and Nature inform our sense of the Divine?
Using a variety of activities including fingerpaint, puppet-making, movement, music and improvisation, we will spend the weekend exploring our personal and collective experiences of play. Please bring a song or dance or poem to share with the whole group.
Join us for an exploration through stories, movement, and roleplays, to engage our curiosity, playfulness and humor. This workshop aims to enliven our connection to Spirit in ourselves, in community, and in Nature.
This program will be co-led by Heidi Pidcoke, MFT (San Francisco Friends Meeting), and fellow therapist Linda Pillsbury, MSW.
About the program leaders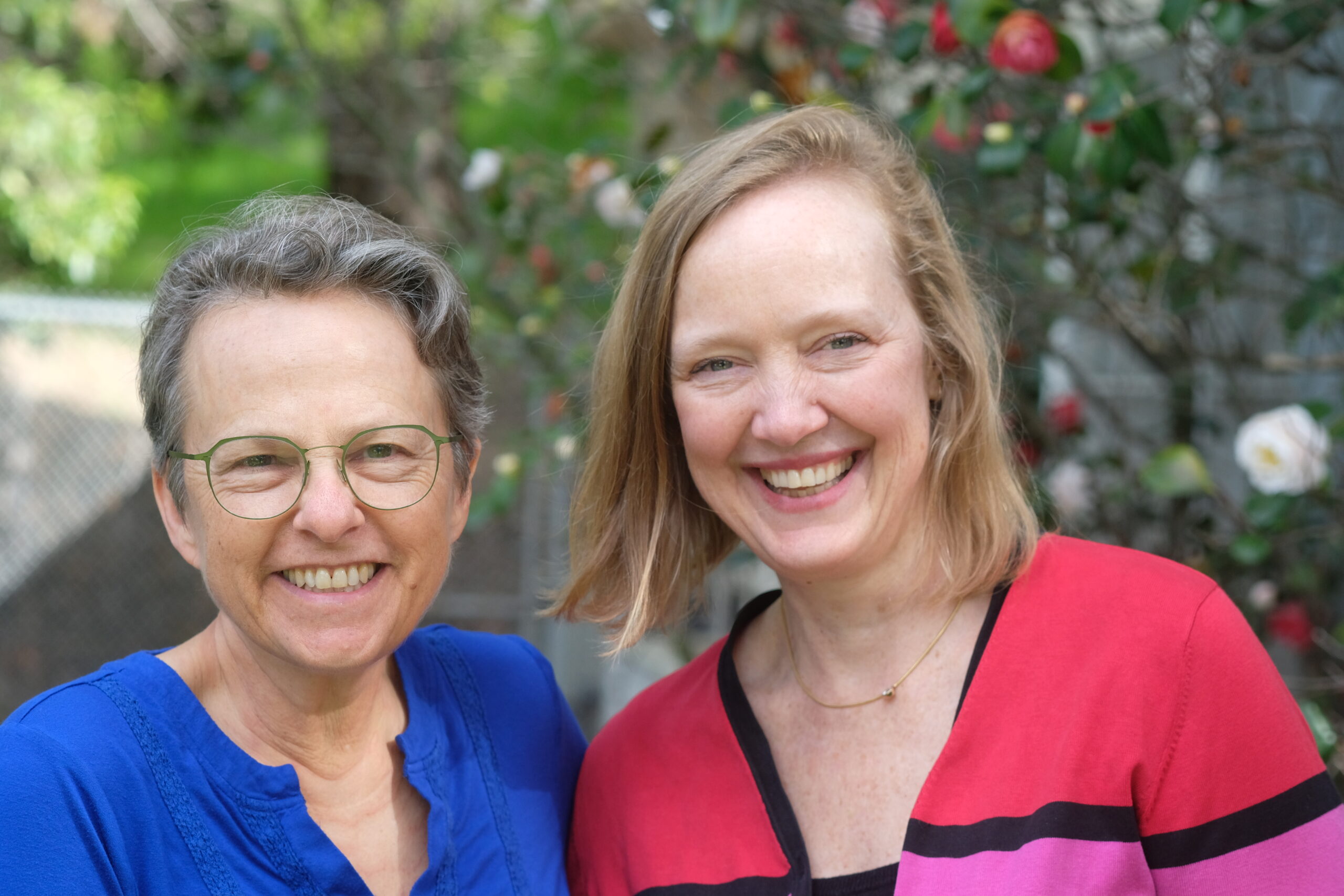 Heidi Pidcoke (at right) is a Licensed Marriage and Family Therapist, Certified EMDR Therapist and Approved Consultant that specializes in Somatics and Trauma. In her 28 years in the field, she has worked with individuals, couples and families in English, Portuguese and Spanish in the various countries where she has lived. Additionally, she is certified as a Voice Movement Therapist and Core Energetics Therapist.
Along with her work providing clinical supervision, Heidi is a UN certified trainer of trainers. She has facilitated training in Africa, Europe and the US for a range of participants including military personnel, diplomats and parents of remanded adolescents. She can be reached by email at heidi@heidipidcoke.com or by calling (626) 716-4850.
Linda Goodman Pillsbury (left) is a Licensed Clinical Social Worker and Restorative Practices  Facilitator and Mediator. For 17 years, Linda has helped people heal from trauma (as a Certified EMDR Therapist and Approved Consultant; also certified in Brainspotting and Havening). Her Restorative Justice work is mostly focused on juveniles, and complements her trauma healing work with formerly incarcerated offenders and with victims. Linda has also worked extensively with unhoused people. She can be reached by email at lindapillsbury@gmail.com, or by phone at 818-522-3952.
Have questions about coming to a Quaker Center program?
Email mail@quakercenter.org or give us a call at (831) 336-8333.